Protect & Grow Standard
This may be our most basic plan, but it still comes with a full business IT Management, a wide range of cybersecurity solutions, and the Cyber Essentials certification (including the cost of getting certified for the first year).
Protect & Grow Standard is perfect for businesses that require a baseline level of compliance and a comprehensive but affordable Managed Service that offers full security and support for a simple IT setup.
How much does it cost?
Protect & Grow Standard is only £49/month per user (this includes two devices for each user).
What's included in the plan?
Cyber Essentials
This plan is aligned with the requirements for passing Cyber Essentials.
We'll do the work for you, and get you certified.
First year certification fee included in the service.
Unlimited Helpdesk access
Unlimited access to our Helpdesk within office hours.
3h SLA for responses on all requests.
Full Microsoft 365/Google Workspace Management
Microsoft 365 or Google Workspace licensing management.
Setup and management of cloud services, including email, file storage, and apps.
Managed Email Signatures.
Fully secure Cloud Backup.
Device Support and Security (Windows and Mac)
We'll resolve any technical issues that your staff may be experiencing on their devices. We work with:
On this plan, we'll only resolve issues that are to do with your operating system, or pre-approved apps.
If you require frequent 3rd party app support, see Protect & Grow Plus.
Email Security
We'll ensure your email communications are secure and your identity is protected with Advanced Email Protection and DMARC.
Advanced Email Security protects email communications on your end.
DMARC protects your identity and proves to your contacts that your emails are trustworthy.
Basic Asset Tracking and End of Life Solutions
We purchase devices for you.
We track your IT Assets and who uses them.
We ensure the most sustainable hardware solutions to help protect the planet.
This plan does not include warranty monitoring (which means that for example, we wouldn't let you know if the warranty on one of the devices you purchased was about to expire). If you require full asset tracking – see Protect & Grow Plus.
Employee Onboarding and Offboarding
Onboarding for your new employees, including user setup on an existing device.
Offboarding your leaving employees to ensure a smooth and secure transition.
IT Policy Pack
A comprehensive set of IT Policies that help manage your IT, protect your business, and improve user experience.
Access to Client Portal
A Client Portal that allows you to monitor all the projects and tickets in the works.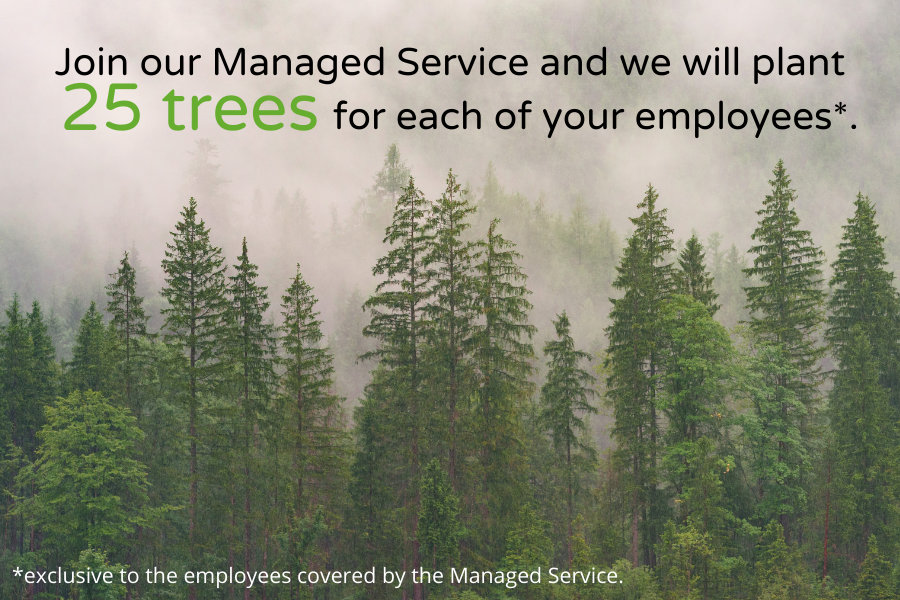 How does it work?
The first step is to book a meeting with our Managing Director, Gildas Jones. Once he finds out more about your business IT requirements, he'll send you a tailored proposal.
Once your contract is signed, our Project Team will begin onboarding your business to the Service (a handover period is recommended, when you're still paying your old IT company while already on the service with us, as this will make the handover much easier).
The onboarding project varies in length depending on your current IT setup and includes Cyber Essentials certification.
Once your onboarded, you can relax and enjoy the benefits of Protect & Grow:
Complete peace of mind with fully managed IT systems
Increased credibility and reputation
Ability to work on the go
Increased productivity
No interruptions or downtime
Fully backed up and secure data
… and all of this at a fraction of the price of an in-house team.
How long is the contract?
Our standard contract lasts 24 months.
At the moment we are offering a free 30 day trial – which means that we won't charge you for the first month of the service, and you are welcome to leave the service during that first month, if you don't think it really suits your business (effectively, it's a one month break clause built into the contract).
How we have helped
Russell Smith
Hunter Selection
We have used Dial A Geek as our Managed Service Provider for a number of years now. They have never failed us. Gildas continues to bring high quality staff into his business as they grow and they all bring the same high standards and enthusiasm to the service that is offered. Whether it is security, productivity, innovation or just day to day operations we always know that they are on top of things for us. It's really important as it allows us to focus on what we do with confidence, knowing that our IT is in safe hands.
Jemma Slattery
Plaster Creative Communications
Since we joined Dial A Geek's Managed Service in 2021, they have greatly improved the way we work.
The team are all very helpful and they always ensure a quick turn around on all projects and Helpdesk tickets. It's nice to know that we can always rely on Dial A Geek to keep us secure, productive, and up to date with our tech. It means that we can continue to grow our business while all our IT needs are taken care of.
Libby Davis
Matter.
The Dial A Geek team are great to work with and have added so much value to Matter. As a start up it's important to have an IT partner that really works with us, understanding our needs, skill gaps and budgets etc.
Our system, security and policies are always improving, and any issues are dealt with quickly with a friendly informed voice at the end of the phone when needed.
David Major
ibex gale
Dial A Geek have provided us with a seamless service since working with them, the team understand our business needs and make sure that we have everything that we need to work in the most efficient way possible. They have responded quickly to any of our queries, there hasn't been anything that they haven't been able to resolve. The team keep us up to date and always follow up to check everything is running smoothly. We would happily recommend their Managed Service to another business seeking a professional and expert IT consultancy and support.
Clair Wadden
Unity Street Chambers
We have been on a support plan with Dial A Geek since 2016. We've always valued their help and expertise, so we were keen on the new broadband solution they proposed in a response to our connection regularly dropping out. Now that we have Fibre broadband they suggested, we can finally get on with our work and waste no more time.  We're very grateful for Dial A Geek's help and would recommend them to anyone looking to improve their business tech.
Sally Jones
Bristol Refugee Rights
We've worked with Dial A Geek for many years. They helped us set our systems up and have maintained them ever since. The service is great – the Geeks are always available to answer a question or provide a solution. Most issues are resolved remotely on the same day and if the problem is more complicated, a Geek will visit as soon as they can. They are very flexible to fit our needs and limited working hours. Their solutions are effective and tailored to us, as they know our systems and have taken time to understand how we work.
Nicola Payne
Noisy Little Monkey
We generally rely on Dial A Geek for our IT support, but over the first three months of lockdown they have been invaluable. From useful newsletters about security issues, to remote support of a broken laptop and answering random queries, they have felt more like our outsourced team than ever.
Ed Mitchell
The Harbour
We are very happy with the service. The Geeks are always calm and professional and resolve our problems promptly. We have found the service to be just as good during the covid-19 pandemic as before and are doubly grateful for that. 
Ed Grinham
Bristol A.R.C. (RSPCA)
We've been working with Dial A Geek since 2014 and they have always provided us with a professional and expert service. We are grateful to the whole team for providing us with a seamless service.
Wes Morgan
Rock Solid Distribution
Dial A Geek team provide an excellent service in a friendly and non-patronising way. True professionals that have helped grow and develop the IT side of our business, which has saved us time, money and made us work smarter. We would not use any other I.T company and to round things off they're all nice guys!
Neil Harris
SHOP
Dial A Geek have always been fantastic to work with. They are personable, prompt and have never confused us with tech-bull****. They also understand how things need to happen quickly and with the minimum of fuss in a busy, professional environment. We'd highly recommend them!
Hazel Thompson
S.M. Gauge Company
SM Gauge Co Limited are on a Managed Service with Dial A Geek and we have found the work and service provided by them to be very professional and their expertise has helped us greatly as a business.
The other benefits of Protect & Grow