Our story and mission
How it all started
Dial A Geek began in 2006 in the kitchen of Gildas Jones, working from a laptop perched atop an ironing board. 'I wanted to provide a service that aims to understand the needs of individuals and businesses to help them to get the most out of their technology', Gildas explains. 'At the same time, I wanted to provide this support in a clear, non-patronising, way.'
After growing success in providing IT service support for small businesses, Gildas moved Dial A Geek to a dedicated office space in the Fire Station in Bedminster, taking on several technicians and a dedicated office manager to help with the workload.
Now a team of 8, Dial A Geek continues to provide managed IT services for nearly 1000 rapidly growing businesses in Bristol and the UK.
Our mission and values
We help businesses reach their goals by unlocking their people's potential – and we do so in a way that protects the planet.
Sustainability is very important to us, which is why we refurbish, upgrade and reuse laptops (each laptop comes with a 350 kg of carbon footprint!). We also recommend and install sustainable systems that help businesses save financial resources otherwise spent on support of unreliable software. We also plant 25 trees for each employee signed up for our Managed Services, to offset our carbon footprint.
We strongly believe in the ethos of personal development within the organisation which is why we take part in apprenticeship programs as well as support our employees in in-house and external training.
We care strongly about partnership, community and human connection. We think it's possible to do IT without the geek talk, and to do business while recognizing a human being on the other side. We care about people – whether it's providing a supportive and friendly working environment, networking with and supporting other local businesses, or really getting to know our clients and creating lasting relations with them.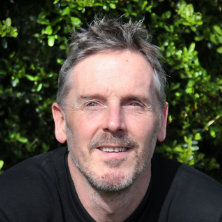 Gildas Jones
Managing Director a.k.a. Chief Geek
Our mission is to protect: your data, your reputation, and the environment. As one of Bristol's B Corps, we take care of our clients' cybersecurity and compliance in the most sustainable way.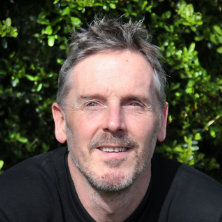 Gildas Jones
Owner and chief geek
Our clients stay with us because we build strong, long-lasting relationships with them & their teams. Our people stay with us because we help them develop and flourish (and we've got awards that prove it).
What clients say about us
Russell Smith
Hunter Selection
We have used Dial A Geek as our Managed Service Provider for a number of years now. They have never failed us. Gildas continues to bring high quality staff into his business as they grow and they all bring the same high standards and enthusiasm to the service that is offered. Whether it is security, productivity, innovation or just day to day operations we always know that they are on top of things for us. It's really important as it allows us to focus on what we do with confidence, knowing that our IT is in safe hands.
Jemma Slattery
Plaster Creative Communications
Since we joined Dial A Geek's Managed Service in 2021, they have greatly improved the way we work.
The team are all very helpful and they always ensure a quick turn around on all projects and Helpdesk tickets. It's nice to know that we can always rely on Dial A Geek to keep us secure, productive, and up to date with our tech. It means that we can continue to grow our business while all our IT needs are taken care of.
Libby Davis
Matter.
The Dial A Geek team are great to work with and have added so much value to Matter. As a start up it's important to have an IT partner that really works with us, understanding our needs, skill gaps and budgets etc.
Our system, security and policies are always improving, and any issues are dealt with quickly with a friendly informed voice at the end of the phone when needed.
David Major
ibex gale
Dial A Geek have provided us with a seamless service since working with them, the team understand our business needs and make sure that we have everything that we need to work in the most efficient way possible. They have responded quickly to any of our queries, there hasn't been anything that they haven't been able to resolve. The team keep us up to date and always follow up to check everything is running smoothly. We would happily recommend their Managed Service to another business seeking a professional and expert IT consultancy and support.
Clair Wadden
Unity Street Chambers
We have been on a support plan with Dial A Geek since 2016. We've always valued their help and expertise, so we were keen on the new broadband solution they proposed in a response to our connection regularly dropping out. Now that we have Fibre broadband they suggested, we can finally get on with our work and waste no more time.  We're very grateful for Dial A Geek's help and would recommend them to anyone looking to improve their business tech.
Sally Jones
Bristol Refugee Rights
We've worked with Dial A Geek for many years. They helped us set our systems up and have maintained them ever since. The service is great – the Geeks are always available to answer a question or provide a solution. Most issues are resolved remotely on the same day and if the problem is more complicated, a Geek will visit as soon as they can. They are very flexible to fit our needs and limited working hours. Their solutions are effective and tailored to us, as they know our systems and have taken time to understand how we work.
Nicola Payne
Noisy Little Monkey
We generally rely on Dial A Geek for our IT support, but over the first three months of lockdown they have been invaluable. From useful newsletters about security issues, to remote support of a broken laptop and answering random queries, they have felt more like our outsourced team than ever.
Ed Mitchell
The Harbour
We are very happy with the service. The Geeks are always calm and professional and resolve our problems promptly. We have found the service to be just as good during the covid-19 pandemic as before and are doubly grateful for that. 
Ed Grinham
Bristol A.R.C. (RSPCA)
We've been working with Dial A Geek since 2014 and they have always provided us with a professional and expert service. We are grateful to the whole team for providing us with a seamless service.
Wes Morgan
Rock Solid Distribution
Dial A Geek team provide an excellent service in a friendly and non-patronising way. True professionals that have helped grow and develop the IT side of our business, which has saved us time, money and made us work smarter. We would not use any other I.T company and to round things off they're all nice guys!
Neil Harris
SHOP
Dial A Geek have always been fantastic to work with. They are personable, prompt and have never confused us with tech-bull****. They also understand how things need to happen quickly and with the minimum of fuss in a busy, professional environment. We'd highly recommend them!
Hazel Thompson
S.M. Gauge Company
SM Gauge Co Limited are on a Managed Service with Dial A Geek and we have found the work and service provided by them to be very professional and their expertise has helped us greatly as a business.
Sharing our knowledge
We believe that knowledge empowers people. That's why we'd like to share as much as possible with our clients and the community of businesses in Bristol.
We regularly write articles and create downloadable PDF guides that touch on the following topics:
Thing we find fascinating
Slightly boring but VERY important business IT tips
Things our clients ask about
If there are any questions you may have regarding business IT management, managed services, cybersecurity, business growth, and technology in general – please send us your question and we will do our best to answer it in the form of a blog post or a PDF guide.
Free resources
Have a look at the wide range of free free resources that may help you decide how to manage your business IT.
You'll find a cybersecurity book, infographic, and multiple quick-read PDF guides here.
Take Me To Resources
Subscribe to our newsletter
Subscribe to our newsletter, and you'll receive helpful updates up to twice a month.
We promise, no SPAM. Only relevant news and tech tips that will help you protect and grow your business.
Subscribe to our newsletter
Read our blog
Go to our blog to find out more about how to unlock your people's potential with the use of tech.
We try to share something every week, so we're sure you'll find some interesting articles here.
Take me to your blog