Introduction & Background
Hunter Selection is one of the UK's leading recruitment companies specialising in Engineering, Manufacturing, Service and Technology. It has over 50 employees, with offices in Bristol, Cardiff, Coventry, and Stafford.
Business Challenge
They were first referred to Dial A Geek in 2014 seeking help for the constant issues with their badly configured hosted exchange server that kept crashing (think emails down every Monday, a massive loss of money, productivity, and morale).
The Solution
We offered Hunter Selection a full email and file migration from outdated systems to Office 365.
It became clear that a company of this size needs a trusted partner to ensure business continuity, cybersecurity, compliance, and offer advice and training to help the business grow further – Hunter Selection joined our Managed Service (Protect & Grow).
Business Outcome
Productivity and business continuity ensured with email and file migration to Office365.


Business continuity (and peace of mind) ensured with backup, centrally managed antivirus and network solutions, and quick response helpdesk access.




Being able to work with larger clients who are reassured the company has its IT Cyber Security policies and protection in place, including Cyber Essentials complianc

e.


Easy transition into remote working during the first lockdown with no downtime – and Sharepoint and Teams migration and implementation already in place.




Secure and reliable systems thanks to email hardening and advanced security solutions.



800+ phone calls per day covered with a Managed VoIP Phone System. *

A smooth Managed Office Move for minimal downtime and productivity loss, including installation of fast Fibre Internet Connection and Cloud-Managed Wireless Networks tailored to the client's new space. *

Minimising user error with staff training, including Teams and Phishing Awareness Training. *

Business KPIs communicated to the team in real time using a Managed Display system. *

Streamlined and secure employee onboarding and offboarding, complete with Device Management – included in Protect & Grow.

Hunter Selection continues to grow, with help from a trusted partner who not only takes care of their IT systems and compliance, but also helps them look into the future and improve their operations – a partner who helps them Protect & Grow their business.
*not included in Protect & Grow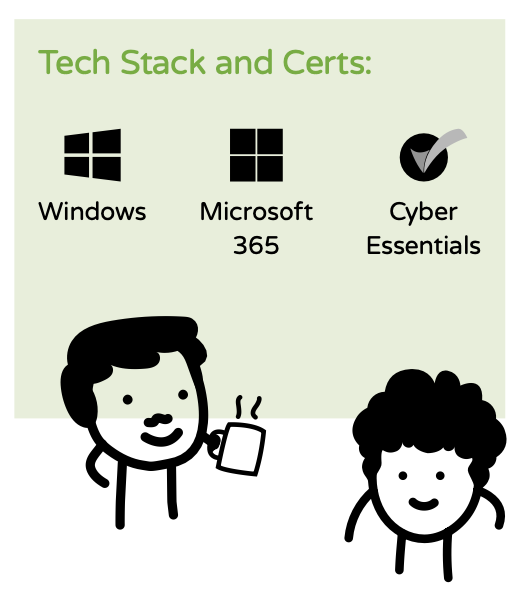 Feedback
We have used Dial A Geek as our Managed Service Provider for a number of years now. They have never failed us. (…) Whether it is security, productivity, innovation, or just day to day operations, we always know that they are on top of things for us. It's really important as it allows us to focus on what we do with confidence, knowing that our IT is in safe hands.

– Russell Smith, MD
DOWNLOAD A PDF VERSION
ALL CASE STUDIES